1. Admittance
On-site access is available to all visitors to the Center to read books, journals, and other materials. Borrowing is not permitted.
2. Reading Room
Reference room within the Center.
3. Hours
Monday through Friday 10:00-17:00
*Closed on National Holidays, Founding Day of Kobe Women's University, and some other days.
4. User Services
On-line searches can be made for books, journals, and other materials. For rare books and special collections, inquiries to the Center must be made in advance.
Access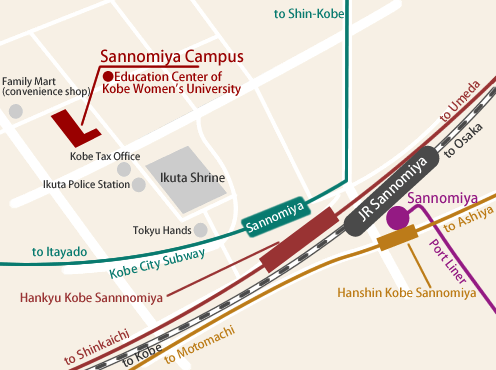 Around 15 minutes on foot to the north from JR Sannomiya, Hankyu Kobe Sannomiya, Hanshin Kobe Sannomiya, and Kobe City Subway Sannomiya stations.
Address
Research Center of Classic Performing Arts
2nd Floor, Sannomiya Campus Education Center Kobe Women's University
23-1 Nakayamate-dori 2-chome
Chuo-ku, Kobe 650-0004
FAX: +81- 78-231-1211
Email: kwu-rc@yg.kobe-wu.ac.jp
URL: http://www.yg.kobe-wu.ac.jp/geinou/